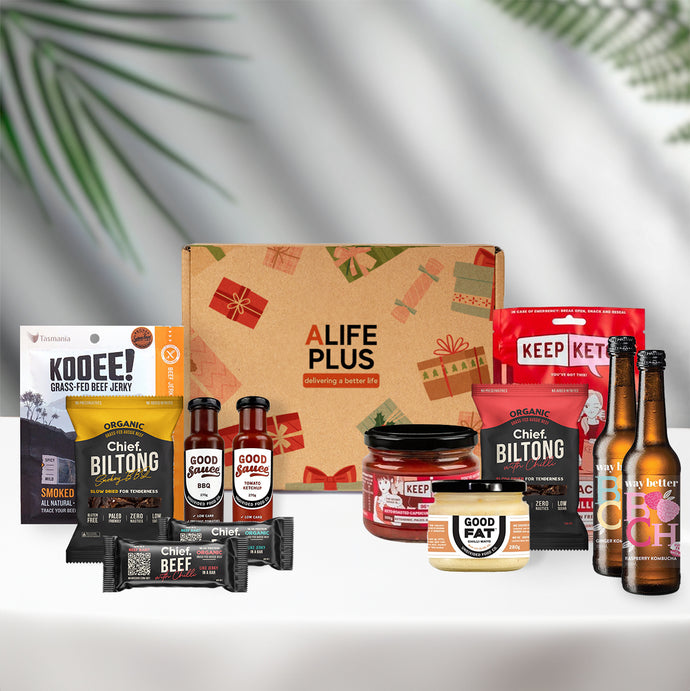 Festive Keto Feast
Regular price 112.99 for NDIS participants
Embrace a world of flavor and satisfaction with our curated selection of keto-friendly snacks, savory sauces, and refreshing beverages, all designed to keep you on track with your keto lifestyle and tantalize your taste buds.
Indulge in the irresistible crunch of:
Keep Keto Sweet Chilli Keto Crackers:

Experience the perfect balance of sweet and spicy with these keto-friendly crackers,

a guilt-free snack that will satisfy your cravings without compromising your dietary goals.
Elevate your meals with:
GOOD Sauce™ BBQ: Add a touch of smoky, sweet, and tangy barbecue flavor to your meals with this versatile BBQ sauce, perfect for grilling, dipping, or marinating.

GOOD Sauce™ Tomato Ketchup
Satisfy your cravings with:
Chief Traditional Beef Biltong: Experience the authentic taste of air-dried beef biltong, seasoned to perfection with traditional spices for a savory and satisfying snack.

Chief Smokey BBQ Biltong: Elevate your snacking experience with smoky BBQ-flavored beef biltong, a tantalizing blend of sweet and savory that will ignite your senses.

Chief Traditional Beef Bar: Enjoy the convenience of a portable beef bar, packed with protein and traditional biltong flavors for a satisfying on-the-go snack.

Chief Chilli Beef Bars: Spice up your day with fiery chilli beef bars, a bold and flavorful treat that will leave you wanting more.

KOOEE! Grass-fed Beef Jerky Smoked Chipotle: Savor the rich, smoky flavors of grass-fed beef jerky, seasoned with a hint of chipotle for a spicy and satisfying snack.
Enhance your culinary creations with:
Good Fat Chilli Mayo:

Add a creamy and flavorful touch to your meals with this guilt-free chili mayo,

made with wholesome ingredients and a hint of spice.
Savor the zesty flavors of:
Keto Roasted Capsicum and Chilli Relish:

Add a tangy and spicy burst of flavor to your keto meals with this roasted capsicum and chili relish,

a versatile condiment that will elevate your dishes.
Refresh and revitalize with:
Way Better Ginger Booch: Awaken your mind and body with a refreshing burst of ginger booch, packed with probiotics and a soothing ginger flavor.

Way Better Raspberry Booch: Experience the delightful fusion of sweet and tart flavors with raspberry booch, a refreshing beverage that's rich in antioxidants and gut-friendly probiotics.
This collection is the perfect way to discover new flavors, fuel your keto lifestyle, and satisfy your cravings without compromising on taste or quality. It's also an ideal gift for friends and family who appreciate healthy and delicious snacks, sauces, and beverages.
So what are you waiting for? Order your keto and flavor collection today and embark on a journey of culinary delight and healthy living!