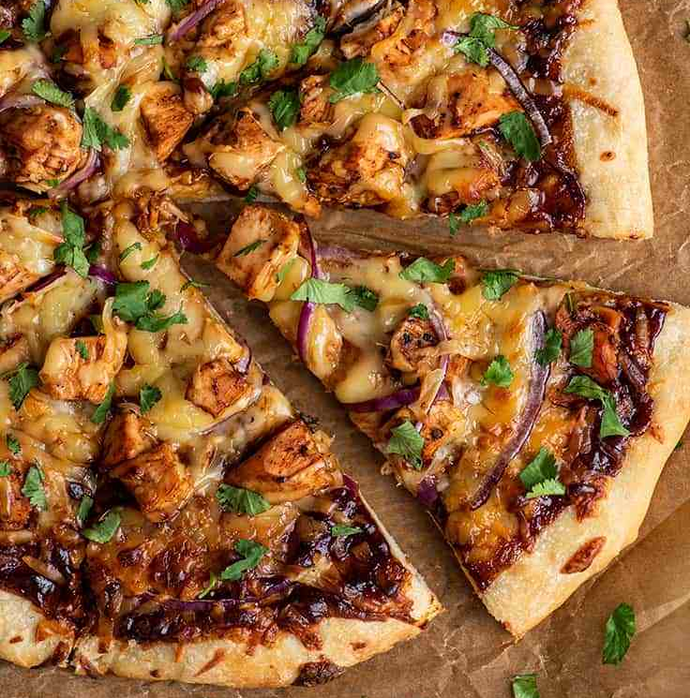 BBQ Chicken Gourmet Pizza - 400g (NDIS)
Regular price 15.00 3.75 for NDIS participants
All the taste, not on your waist!!
It tastes chewy and crisp, with BBQ sauce and cheese. However, you mostly taste the BBQ and the crispy chewiness of the dough then the cheese. It's all about the textures combining with the flavor of the sauce to give you an umami effect.

I hope this pizza becomes one of your new favorites too. Enjoy!

100% ALL NATURAL WHOLE FOODS
NO ARTIFICIAL INGREDIENTS
NO PRESERVATIVES
NO SUGARS
NO CHEMICALS. NO HORMONES. NO CARCINOGENS.
Ingredients:

Australian Free Range Chicken, BBQ Sauce, Mozzarella Cheese, Onion, Free Range Eggs, Baking Powder, Coconut Flour, Almond Flour, Butter, Himalayan Rock Salt, Organic Ground Black Pepper, Cold-Pressed Extra Virgin Olive Oil
Nutritional Information:
Energy kJ - 2920
Protein - 37.6
Fat - 55.6
Carbs - 8.1
Reminders & Storage:

Consume immediately after opening

Store at 1-4°c
Note: Your meals are refrigerated up until the minute they are delivered and the meals will stay chilled in the box for approx 6-9 hours depending on the temperature. Please ensure you refrigerate the meals immediately, once the delivery has been made to your property successfully.
Allergen advice: Contains Tree Nuts and Dairy
Food Allergy Notice: Our meals are prepared in a kitchen whose environment contains eggs, fish, milk, peanuts, sesame, crustaceans, soy, nuts, tree nuts, gluten, lupin, and sulfites. Though best practices are used in preparing the meal, inadvertent cross-contamination may occur. We cannot guarantee the complete absence of these allergens.
Our nutrition data includes all sauces, dressings, condiments, and garnishes included with a dish. Every reasonable effort has been made to ensure the accuracy of all information at the time of publication. However, the information contained above is subject to change without prior notice.
PICTURES SHOWN ARE FOR ILLUSTRATION PURPOSE ONLY. ACTUAL PRODUCT MAY VARY DUE TO PRODUCT ENHANCEMENT.