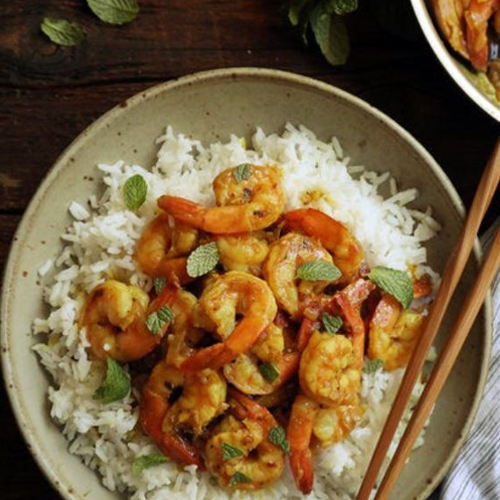 Curried Laksa Prawns with Basmati Rice & Crispy Tempeh
Regular price 13.00 for NDIS participants
Dish Macros:
Dish Size
Energy
Protein
Fat
Carbs

250g

KJ
CAL
27.2g


11.9g

23.3g

1350

322.66

400g
2140

511.47

43.9g
19.3g
35.7g
Heating Instructions:
Please peel back film before reheating
Reheat for 2-3 mins on high
Heating times may vary
Reminders & Storage:

Consume immediately after opening

Store at 1-4°c
Ingredients: 
King Prawns, Onion, Garlic, Ginger, Galangal, Chicken Broth, Canola Oil, Erythritol Sugar, Salt, Coconut cream, Soy sauce, Chili, Sliced Red Chili, Basmati Rice, Fried Tempeh, Bamboo Shoot, Broccoli, Shreded Coconut
Note: Your meals are refrigerated up until the minute they are delivered and the meals will stay chilled in the box for approx 6-9 hours depending on the temperature. Please ensure you refrigerate the meals immediately, once the delivery has been made to your property successfully.
Allergen Present: Shellfish, Soy
Allergen Notice: Our meals are prepared in a kitchen whose environment contains eggs, fish, milk, peanuts, sesame, crustaceans, soy, nuts, tree nuts, gluten, lupin, and sulfites. Though best practices are used in preparing the meal, inadvertent cross-contamination may occur. We cannot guarantee the complete absence of these allergens.
Our nutrition data includes all sauces, dressings, condiments, and garnishes included with a dish. Every reasonable effort has been made to ensure the accuracy of all information at the time of publication. However, the information contained above is subject to change without prior notice.