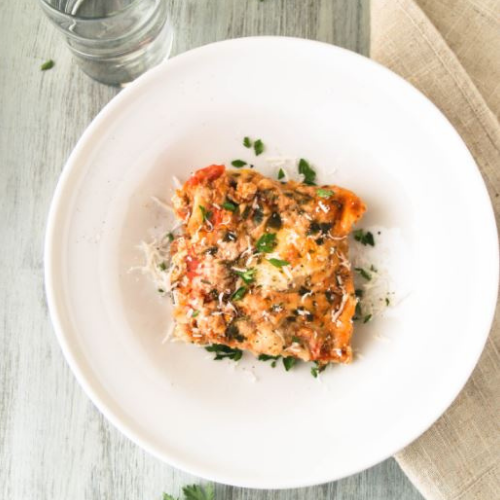 Keto Lasagna with Ricotta Cheese
Regular price 13.00 for NDIS participants
Dish Macros:
Dish Size
Energy
Protein
Fat
Carbs

250g

KJ
CAL
45.8g


52.7g

1.4g

2750

657
400g
4220

1009

76.2g
78.1g
1.7g
Heating Instructions:
Please peel back film before reheating
Reheat for 2-3 mins on high
Heating times may vary
Reminders & Storage:

Consume immediately after opening

Store at 1-4°c
Ingredients:
Australian Free Range Sliced Chicken, Australian Grass Fed Beef Mince, Mozzarella Cheese, Ricotta, Home Made Napolitana Sauce, Himalayan Rock Salt, Organic Ground Black Pepper, Cold-Pressed Extra Virgin Olive Oil
Garnish: Parsley
Note: Your meals are refrigerated up until the minute they are delivered and the meals will stay chilled in the box for approx 6-9 hours depending on the temperature. Please ensure you refrigerate the meals immediately, once the delivery has been made to your property successfully.
Allergen Present: Cheese, Dairy
Allergen Notice: Our meals are prepared in a kitchen whose environment contains eggs, fish, milk, peanuts, sesame, crustaceans, soy, nuts, tree nuts, gluten, lupin, and sulfites. Though best practices are used in preparing the meal, inadvertent cross-contamination may occur. We cannot guarantee the complete absence of these allergens.
Our nutrition data includes all sauces, dressings, condiments, and garnishes included with a dish. Every reasonable effort has been made to ensure the accuracy of all information at the time of publication. However, the information contained above is subject to change without prior notice.