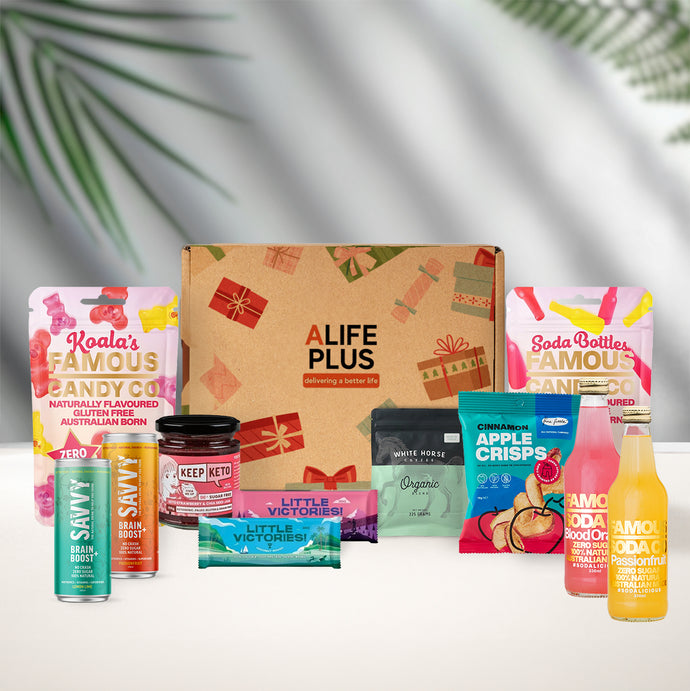 Wholesome Keto Delights
Regular price 73.99 for NDIS participants
Embark on a delightful keto and wellness journey with our carefully curated collection of guilt-free snacks, flavorful beverages, and brain-boosting drinks, all designed to support your keto lifestyle and keep your taste buds satisfied.
Indulge in the sweetness of keto with:
Keto Strawberry and Chia Seed Jam: Spread the goodness of strawberries and chia seeds with this keto-friendly jam, perfect for adding a touch of sweetness to your breakfast or snacks.

Little Victories Coconut Rough Sugar Free Protein Chocolate: Satisfy your cravings with this decadent and guilt-free sugar-free protein chocolate, packed with protein and the rich flavors of coconut.

Little Victories Mylk Sugar Free Protein Chocolate: Experience the smooth and creamy texture of this sugar-free protein chocolate, a delightful treat that will keep you energized without compromising your keto goals.
Quench your thirst and fuel your mind with:
Famous Soda Blood Orange: Enjoy the refreshing burst of blood orange flavor with this sugar-free soda, perfect for a guilt-free indulgence.

Famous Soda Passionfruit: Tantalize your taste buds with the exotic flavors of passionfruit in this sugar-free soda, a refreshing treat that won't derail your keto journey.

SAVVY Brain Boost - Passionfruit: Enhance your cognitive function and enjoy a boost of energy with this passionfruit-flavored brain booster, packed with nootropics that support mental clarity and focus.

SAVVY Brain Boost - Lemon Lime: Stay energized and sharp with this invigorating lemon-lime flavored brain booster, a refreshing beverage that promotes mental clarity and focus.
Satisfy your sweet tooth without compromising your keto goals:
Famous Candy Co Sugar Free Koalas: Indulge in the nostalgic flavors of sugar-free koala candies, a guilt-free treat that will satisfy your cravings without the added sugar.

Famous Candy Co Sugar Free Soda Bottles: Relive childhood memories with these sugar-free soda bottles, a fun and guilt-free way to enjoy the taste of your favorite candies.
Kickstart your day with:
White Horse Organic Coffee Ground Espresso: Brew a rich and flavorful espresso with these organic coffee grounds, the perfect way to fuel your morning and enhance your keto lifestyle.
Enjoy a wholesome snack:
Fine Fettle Apple Crisps Cinnamon: Savor the crunchy goodness of these cinnamon apple crisps, a healthy and satisfying snack that's packed with fiber and flavor.
This collection is the perfect way to embrace a keto lifestyle without sacrificing taste or satisfaction. It's also an ideal gift for friends and family who appreciate delicious and healthy snacks and beverages.
So what are you waiting for? Order your keto and wellness collection today and embark on a journey of flavor, health, and wellness!
Please note:
Our substitution policy clarifies our occasional need to replace advertised products with alternatives to fulfill orders promptly, particularly when an item is out of stock. In such rare cases, we will substitute the item(s) with a similar product of equal or greater value at no extra cost to the customer, sender, or recipient. While we aim to notify customers of substitutions in advance, the high volume of orders may make this impractical.